Rich Hill Bobblehead Night Tickets.
The upcoming Rich Hill Bobblehead Giveaway Game is featured above featured above.
Select the orange "view tickets" button that corresponds to your selection to advance to the next page.
Click on the interactive Dodger Stadium map to pinpoint available tickets in specific areas of the Stadium.
You can view the field from all available sections of the Los Angeles Dodger Stadium.
Advance to our secure checkout, enter your valid email address to log in and place the order online.
All of your personal information required for processing will always remain safe and secure at Barry's Tickets.
Once the order is confirmed, our Barry's Tickets 100% Buyer Guarantee assures that your tickets will arrive in time for the Rich Hill Bobblehead Giveaway Game.
Dodger Stadium.
Dodger Stadium, 1000 Vin Scully Ave, Los Angeles, CA 90012.
The Rich Hill Promotional Bobblehead Giveaway night at Dodger Stadium is against the San Francisco Giants on August 14, 2018.
Fans attending the game will also be able to participate in LA Dodgers Foundation Silent Auction which is outside the Vin Scully Dodger Stadium Press Box. There are over twenty-five items up for bid.
What time do Dodger Stadium gates open?
The parking gates at Dodger Stadium open 2.5 hours before the start of the Dodgers vs. San Francisco Giants baseball game.
Fans are allowed to enter Stadium two hours before the baseball game start time to watch batting practice from the field level.
Only 40,000 Rich Hill Bobblehead Promotional Bobbleheads are given out to the first 40,000 fans to enter Dodger Stadium. We highly recommend arriving at the stadium early to ensure you receive your Los Angeles Dodgers Promotional Schedule bobblehead giveaway.
Los Angeles Dodgers Promotional Giveaway items and the schedule is subject to change without notice. Barry's Tickets is not responsible if you do not receive your Los Angeles Dodgers Rich Hill Bobblehead promotional giveaway, upon entering the stadium.
If you need any help with tickets to the Rich Hill Bobblehead Giveaway Game at Dodger Stadium, you can speak with Barry's Tickets team member seven days a week at (866) 708-8499.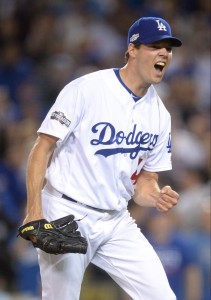 Dodgers Rich Hill Bobblehead Night.
Rich Hill was drafted during the 2002 Major League Baseball draft by the Chicago Cubs. Hill played college baseball for the Michigan Wolverines baseball team.
Hill has played for eight Major League Baseball Teams.
Chicago Cubs (4 years), Boston Red Sox (4 years), Los Angeles Angels (1 year), Cleveland Indians (1 year), New York Yankees (1 year), Baltimore Orioles (1 year), Oakland Athletics (1 year) and the Los Angeles Dodgers (3 years).
Los Angeles Dodgers Rich Hill throws left-handed and bats left-handed. Learn more about Rich Hill here.
Since 1985, our goal has always been and will always be to make Barry's Tickets the best place for fans to buy cheap LA Dodgers tickets as well as recieve superior customer service no matter their budget.
Image Source: www.mlbtraderumors.com.
Barry's Tickets
Phone:
(866) 708 8499
1020 S. Figueroa Los Angeles CA 90015 Phone: 213-749-0057
Tickets for Rich Hill Bobblehead Night Dodger Stadium Price Range:
$